Amy Poehler got huge laughs on "Saturday Night Live" for reading outrageous news on Weekend Update and for her brilliant impressions of Hillary Clinton, Britney Spears, Sharon Stone and countless others.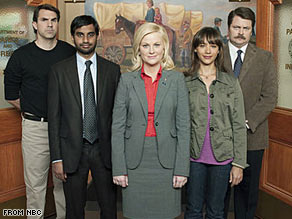 So it's kind of strange to see her in a new comedy role and not hear applause or laughter when she appears on screen.
Poehler is the star of "Parks and Recreation," a new television series on NBC in which she plays Leslie Knope, a mid-level city official in Pawnee, Indiana.
The show's Web site bills it as a "mockumentary that looks at the exciting world of local government" and fans of "The Office" will recognize the same mix of workplace tensions, deadpan delivery and comically awkward moments. (The show's creators also wrote for "The Office.")
Two episodes of "Parks" have aired so far and it's still hard to say what to make of the series. I'm a huge fan of "The Office" and some of its outrageous situations and dialogue make me laugh out loud, but this show hasn't had the same effect so far, though it is amusing in places.
The big focus so far has been the effort of Poehler's character to turn an abandoned construction pit into a park and the resulting bureaucracy and frustrating contact with the public.
It took a while for "The Office" to catch on with audiences - will it be the case with this show? If you've been watching "Parks and Recreation," tell us what you think.