It's Wednesday night, and I have already had my fix of reality television.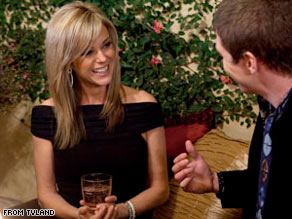 "America's Next Top Model": check.
Yes I'm 5'2" but in my mind I'm six-feet tall, leggy and a top model, of course.
"American Idol": check.
Did I mention that I see myself as this amazing performer in karaoke competitions with family and friends, totally Idol worthy!
What I eagerly anticipated this Wednesday was the debut of "The Cougar."
After all, I am approaching the 40-year mark in June so what better way to ease into this new milestone than to see what I'm in for?
So, I settle in with my best cougar-like ware: stilettos and a Snuggie.
The show opens with host Vivica A. Fox, a self proclaimed Cougar who promises the show's goal is to open our eyes to the "cultural phenomenon that's changing the entire dating scene." Watch Fox talk about the show on CNN's dotcom LIVE
Really, I prepare to be educated.
The premise of the show is this: We have Stacey Anderson, a 40-year-old commercial real estate agent. She is divorced with four kids. She is single and ready to mingle. She is the ultimate catch but is seeking a younger mate who, like "The Bachelorette," she can marry and live happily ever after ... until the next season.
When Stacey is asked what attracts her to a younger guy she declares it's their passion, zest for life, spontaneity and their sexual prowess. Just hearing that list has me tired already, but this is my destiny as a 40 year old so I don't fight it.
But, back to the show … Vivica introduces Stacey to "the boys" after informing "the boys" that Vivica will not be the cougar. There are slight moans of disappointment.
The men, all under the age of 30, will go through a series of challenges in order to win Stacey's affection and return for the next episode. The show's premise is very much like "The Bachelor."
If Stacey keeps you, then you are rewarded with a kiss. If not, then as this poor guy goes in for the kiss, she turns her cheek toward you. The first couple of times it was a bit unnerving to watch. I keep wondering if they would give her a Carmex break with all the kisses.
My question to the masses: Is this show meant to empower women or make us feel just a wee bit icky? I haven't decided yet.
Is Stacey more for the Stiffler's Mom crowd (if you don't realize this is a reference from the movie "American Pie" then you are not a potential cougar) or is she truly just an older woman in search of her Ashton?
Well, we have 8 weeks to decide.
In the meantime, I'm taking these stilettos off because even though they look good they still hurt.
I'm curling up with my Snuggie with dreams of what the Cougar will do next.
I can't wait.
"The Cougar" airs on Wednesdays at 10 p.m. on TV Land.
- Audrey Irvine, CNN producer