"American Idol" went to the movies last night and tonight one of the contestants will take their final bow on the results show.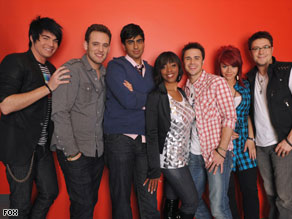 Music from the movies was the theme and while the group as a whole didn't exactly take Hollywood by storm, there were moments here and there – both good and bad.
It was a weird night with Quentin Tarantino serving as guest mentor and the judges critiquing in pairs. Tonight may also yield a few surprises in who lands in the bottom three and who ultimately goes home.
Do you think you know? Tune in to learn the results and watch scheduled performances by Academy Award winner and former "American Idol" contestant Jennifer Hudson and teen star Miley Cyrus.
CNN.com's Lisa Respers France will blog live during the show. Leave your comments here or submit videos of your reaction to the results to iReport.
Has your favorite sung his or her swan song? Let us know and your comment may be used on CNN!
–Lisa Respers France, CNN.com writer