Last night's "American Idol" was almost all music from the 1980s, performed by the eight remaining contestants. They served up an interesting mix of the blah and the beautiful.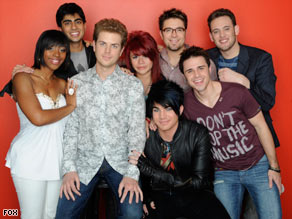 There was also a sprinkling of drama, with the show running long and some folks missing Adam Lambert's performance.
Tonight, we find out who the viewers think belong in the bottom three - and who ultimately goes home.
Do you have any guesses? Tune in to learn the results and watch scheduled performances by former "American Idol" contestant Kellie Pickler and rapper Flo Rida.
CNN.com's Lisa Respers France will blog live during the show. Leave your comments here or submit videos of your reaction to the results to iReport.
Is time up for your favorite? Let us know and your comment may be used on CNN!
–Lisa Respers France, CNN.com writer