Scott's mom looks younger than him!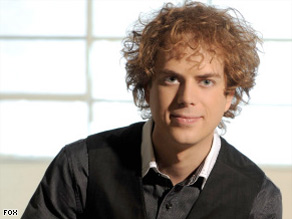 Wait! Where's the piano?!?!?!?
Scott is sans keys and with an electric guitar for Survivor's "The Search Is Over."
Ouch, that one note hurt my ears something fierce. He tried to reach for the rafters on some of the notes, and he didn't get even close.
Happy to see him standing upright, but he is not the power ballad dude at all. He seems to know his days are numbered, 'cause he said he wanted to show his versatility before he gets sent home.
He's a cutey with the new haircut, and I probably should just leave it at that.