I knew Anoop was going to give a shout-out to the Tar Heels!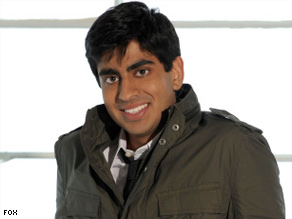 Way to show that UNC love.
Anoop shares a birthday with David Cook, but does he share the chops?
He certainly doesn't share the fashion sense, 'cause that green striped sweater is  Peanuts character all the way.
Noop Dogg the balladeer has returned with "True Colors," and he's trying to work the crowd a little bit with the smoothness.
Hmmm. Not sure how I feel about this one.
His is one that I feel like I have to rewind the Tivo and see whether it was that good or whether it just was so much better than his dreadful turn last week singing Usher.
I did like that he apologized for coming off a bit salty at the judges' criticism last week. It was kind of classy.