No, it wasn't an April Fool's Day joke – President Obama actually gave Queen Elizabeth II an iPod. It is reportedly engraved with an inscription (no details on what's inscribed) and comes pre-loaded with videos from the Queen's 2007 visit to the U.S., as well as some songs.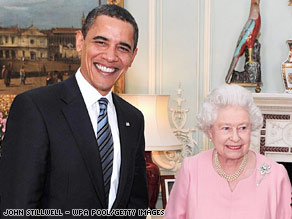 Barack Obama poses with Queen Elizabeth II in London.
I have a plethora of questions about said MP3 device: How many gigabytes? What color? Is it crown jewel-encrusted?
And, of course: What songs were selected?
If you're reading this, Your Majesty or Mr. President, music buffs around the world would love to know what songs were selected. Until my curiosity is satiated, I have decided to devise my own imaginary iTunes playlist for the Queen. Let's try these:
"God Save the Queen" – Sex Pistols
"Queen of Hearts" – Juice Newton
"Queen of the Hop" – Bobby Darin
"You're My Best Friend" – Queen
"U.N.I.T.Y." – Queen Latifah
"London Calling" – The Clash
"Her Majesty" – The Beatles
"Down in the Boondocks" – Billy Joe Royal
"Kind of a Drag" – The Buckinghams
Will I ever find out if any of my selections made it? Probably not. Do you have any submissions for the playlist? Leave a comment!
- Katie McLaughlin, CNN