"American Idol" is down to nine. Tonight, the group will perform selections from some of the most digitally delectable songs available.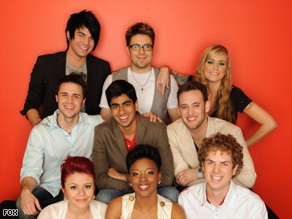 "Top downloads" is the show's theme this week and we can't wait to see who picks what to show off their vocal stylings – or lack thereof.
Watch tonight along with CNN.com's Lisa Respers France, who will be blogging live during the show.
Last week's elimination show had a few surprises. You can check out CNN Radio's Michelle Wright's reaction to who went home and see if you agree.
Is your favorite still in the game? Watch "American Idol" with us and let us know your opinions about the remaining contestants.
Post your comments below, or head over to iReport to submit video of your reactions to the performances.
Your comment or video may appear on CNN!
–Lisa Respers France, CNN.com Writer