Lil looked so pretty tonight.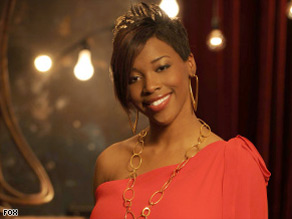 But if you are going to sing a Celine Dion song, you have to really bring it.  Lil chose Dion's "I Surrender," and she, too, was criticized for her song choice.
Maybe I just expected too much from her and her big voice. I wanted her to have "a moment," and like last week, she didn't.
Ryan went to one of her daughters in the audience and even the kid was at a loss for words. Very cute moment when her other daughter hugged Randy. So sweet.
–Lisa Respers France, CNN.com writer