The intro is done and now we have entered the land of "Top Downloads."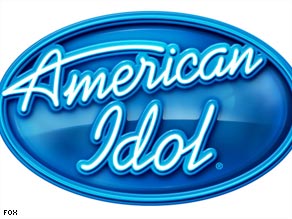 When I first heard tonight's theme, I immediately started thinking all types of wicked thoughts. With so broad a range, there's no telling which downloads the contestants will choose to sing.
I couldn't help but imagine someone rocking a little Flo Rida, Miley Cyrus or (heaven forbid) Britney Spears' "If You Seek Amy." That will never happen, but how delicious would that be?
The latter got me considering what a Britney themed night might be like. Especially if "American Idol" could convince Ms. Spears to serve as a mentor. Can't you just see her telling the contestants to "Sing the lyrics like you feel them y'all!"
Oh well. A girl can dream can't she?
Back to the show. Randy says the "competition is just getting started," and Kara gets to define artistry. They don't trust Paula with a serious question, and she just gets to tell us that she is hiding no props under the table tonight.
Ryan says the door is thrown wide open for song choice with the popular downloads from iTunes. The group took a field trip to Ryan's American Top 40 radio show. Nicely played, Ryan. Way to cross-publicize!
–Lisa Respers France, CNN.com writer