What is up with this show and big, audacious hair accessories?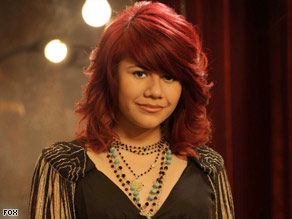 Allison had some God-awful thing in her hair tonight that reminded me of the monstrosity Carrie Underwood sported two weeks ago.
She sang "Don't Speak" by No Doubt, and I was so distracted by her baby Cyndi Lauper outfit that I didn't really totally grasp the performance.
Part of me thinks it was a little rough. I liked that she played the guitar a little bit, but it wasn't her strongest performance. She can sing, and I really wanted to see something other than her hair accessory shine.
Am I wrong?
–Lisa Respers France, CNN.com writer