Smokey Robinson made a house call for Michael Sarver because Sarver was too sick to make it to Detroit. Amazing.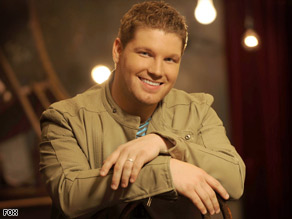 Finally, some Temptations!
Michael Sarver sang "Ain't to Proud to Beg" and said he was going to get back to his soulful roots.
Where might those roots be?
And by "taking it to church" I think he might have been refering to his prayer that he's not in the bottom three tomorrow.
I really wanted to like this rendition because in rehearsal it seemed like he was giving a little Nick Lachey action. Then Michael took to the stage - and even his having been sick is no excuse.
He had lots to say when Simon offered him a critique and kudos to him for sticking up for himself. He's having a blast, he said, and I think he should enjoy it while he can.
Do you think his song choice did Michael in this week?
–Lisa Respers France, CNN.com Writer