Lil Rounds had no excuse not to knock it out of the box tonight.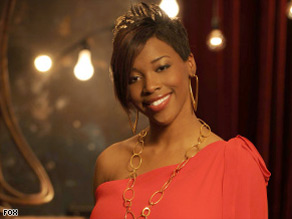 With her voice, she should own Motown night.
She sang "Heatwave," which was a hit for Martha and the Vandellas. It seemed the perfect choice because she's a bit of a throwback, and I could so see her as the lead singer of a girl group.
But it just never hit the sweet spot I was waiting for. Randy was right on point when he said it was not her best performance.
Kara rightfully put it out there that she was the diva to watch and Lil disappointed.
And what was up with that flapper dress? All that fringe made me feel itchy. The dress moved me more than the performance did, and that makes me so sad.
Seemingly another poor song choice. What is going on with the contestants tonight? They had so much to choose from!
What do you think is the issue?
–Lisa Respers France, CNN.com Writer