I have to start by saying Adam's hair scared me to death.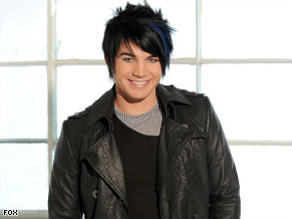 Very "Superman" meets "Mad Men," with a dash of Jonathan Rhys Meyers as Elvis.
But on to the song. Adam gets points for singing Smokey Robinson's "Tracks of My Tears" and for singing it well.
I can't believe I am about to say this, but Adam Lambert gave me chills ... and not in the scary way he usually does.
He went a little riff crazy, but that boy can sing!
Team Adam loves him when he is alt-indie, but will they still love him tomorrow with the clean-cut look and the less theatrical performance?
–Lisa Respers France, CNN.com Writer