So it's all true: Michael Jackson will perform live again. But after all the buildup, his announcement appearance was rather anticlimactic -– for which the performer himself was mainly to blame.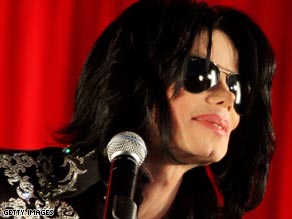 Michael Jackson announced his summer concerts at a London event Thursday.
Jackson didn't exactly get things off to a rousing start. He was more than 90 minutes late to his own press conference, which was scheduled to begin at 11 a.m. ET. Not even the promotional film started without a glitch - though, given that it was chock-full of '80s and '90s clips, it succeeded in reminding viewers of the genuine excitement Jackson could convey.
And then a skeletal figure sauntered off a silver bus and made his way to the stage.
All that apparent cosmetic surgery notwithstanding, Jackson seemed healthy. "Thank you all," he said. "This is it."
He'll be performing 10 concerts, beginning July 8, at London's 20,000-seat O2 Arena. "This is it" has a double meaning: Besides, presumably, being a must-see ticket, Jackson said that these will be his last shows in London.
He hasn't announced any other shows, but you never know. So, if there were more, would you see him? And would you go to see a Michael Jackson performance or a Michael Jackson freak show?
Comment below - or if you have a favorite Jackson move, send us an iReport.
- Todd Leopold, CNN.com Entertainment Producer