I have to admit: even though I am way past the "tween" age and consider myself a serious journalist, I enjoy anything pop culture - especially teen movies and TV shows, and my favorite "niece" keeps me up on the latest Disney sensations.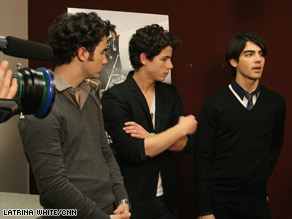 The Jonas brothers talk to CNN before surprising fans in Atlanta, Georgia, on Saturday.
So when I received a call on Wednesday that the Jonas Brothers were coming to Atlanta this weekend, and was asked if CNN.com would be interested in covering their visit, it was a no-brainer. The Jonas Brothers are huge; you can't pass a magazine rack without seeing Nick, Joe and Kevin's faces. We were sworn to secrecy, no one could know that Atlanta had been chosen as one of the few cities to take part in the "Surprise Theater Invasion Tour."
Saturday was D-Day– or should I say J-day - and the brothers successfully arrived at Atlanta's Regal Hollywood Theater in secrecy.
Our own Brooke Baldwin, our photojournalist crew and I were escorted to a tiny room on the second floor of the theatre. We were given the opportunity to speak with the Jonas Brothers one on one before the big surprise. They were hustled in and could not have been more polite.
Brooke asked them why they were doing the tour. "It's so very important to us to really enjoy all of what we are doing with our fans," Nick Jonas responded. "They are making it all possible."
Joe Jonas talked about the reaction so far to the surprise tour. "We've been to a few cities already today to surprise some fans and it's been amazing, the reactions have been over the top."
They talked about how amazed they were about everything going on in their lives. "There are moments where we are shocked every single day, I think that's what makes it so special for us," Kevin Jonas said. "This is incredible." With all the craziness, they still claim to try and lead pretty normal lives. "We're normal guys, we hang out and go see movies, we go shopping, we like to play golf," said Kevin.
After the interview, the brothers gave a quick press conference, and then we were moved to the theater where their new movie "Jonas Brothers: The 3D Concert Experience" was being played to a sold out room of tweens. With all the media cameras set up in the room, the excited girls still had no idea that there was a big surprise coming. They were just excited to see the movie.
Then the Jonas Brothers were introduced, and the girls broke out in giddy screams. My ears are still ringing. Nick thanked the crowd (or at least I think he did, it was hard to hear over the screams). They spoke for about five minutes and waved a quick goodbye before running out the back door to the deserted parking lot in back.
Their mission was a success: they shocked the crowd. "We had no idea," said one young girl. Another went on about why she is such a big fan, saying "their music is really good."
Nick Jonas told us that he and his brothers appreciate all that their fans do (including the screaming and fainting). They feel very loved - and they certainly weren't disappointed in Atlanta. The young crowd showed their love and appreciation, and it was a night I'm sure they will never forget.