The backstage bursts into applause when Best Actor winner Sean Penn walks in. The first question posed is, did he have any reservations when he took the title role in "Milk?" His one word answer: "No."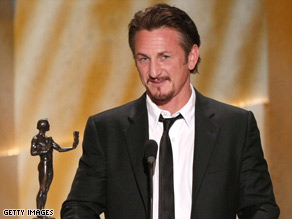 What can I say, he is a man of few words! But then he opened up a bit about the film and credited most of its success to director Gus Van Sant, who, he said, was "incapable of making an irrelevant movie." He called him talented, great, and an adjective you don't hear often about a director: gentle.
Van Sant, he said, did a tremendous job of creating a positive environment for the cast. Ultimately, Penn felt it wasn't the theme or the politics that drew him to "Milk," but the script and the director.
And while Penn is definitely one of our more serious actors, there was a moment of levity: he said he realizes he's getting older every time he sees those crow's feet on the big screen! The feeling here backstage is that Penn really disappeared into the role and truly became Milk. I think the word that sums it up best for me is that is was a "winning" character and performance in every sense of the word.