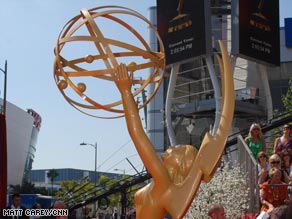 For those of you eager to know how tonight's Emmy ceremony will unfold, I have obtained a copy of the master plan for the show that producer Ken Ehrlich put together. It's divided into 13 "acts" and is expected to run three hours, five minutes and 19 seconds long (how can they predict how long those Emmy acceptance speeches will last?). Set your stopwatches!
Oprah will kick things off. One of the highlights could be British comedian Ricky Gervais (star of "Extras" and the new movie "Ghost Town"), who will introduce a segment on "greatest Emmy speeches." He's fantastic.
Josh Groban will be singing a medley. Not sure why. There will also be a cast reunion of "Laugh-In" (Goldie Hawn? Lily Tomlin? Arte Johnson? Ruth Buzzi? Who knows?).
The final award, as usual, will be Best Drama Series. And then the parties begin!
- Matt Carey, CNN Entertainment Producer