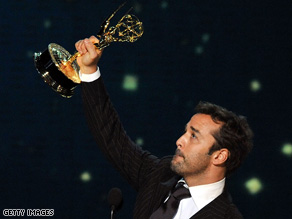 "Entourage" star Jeremy Piven was the first star to come backstage to the press room, winner for Best Supporting Actor in a Comedy. This is his third straight win in the category. Emmy voters have a tendency to fasten on a performer and award them year after year (e.g., Candice Bergen won five in a row for "Murphy Brown").
Piven said he thinks "Entourage" is getting better as the show evolves and his third win is "more shocking than the first two."
He was asked by a member of the media what he thought of "President Palin" but he declined to answer, other than approving what Matt Damon said about her (Damon called her candidacy "absurd").
He did speak frankly about the weak opening of the Emmy telecast which saw the five co-hosts ramble on for about 10 minutes. Piven said he thought for a minute that the audience was being punked.


- Matt Carey, CNN Entertainment Producer