The five co-hosts for tonight's Emmy telecast are walking the red carpet now - Heidi Klum of "Project Runway," Jeff Probst of "Survivor," Ryan Seacrest of "American Idol," Howie Mandel of "Deal or No Deal" and Tom Bergeron of "Dancing with the Stars."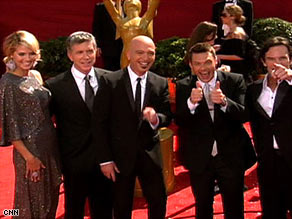 Usually the network airing the Emmys (it rotates yearly between the big four) recruits one of their own stars to host, but ABC is doing something unusual by turning the show over to these five. It's a gamble, because none of them is particularly known for their comedic skills (with the exception of Mandel, who started in standup).
It could be a sign of desperation as the Emmys tries to drum up interest in a show that had its second-lowest ratings ever last year. The five are also competing tonight in the category of "Best Host for a Reality or Reality-Competition Program." I guess if Probst loses he will have to immediately leave the tribal council, pack his bags and go home.
- Matt Carey, CNN Entertainment Producer