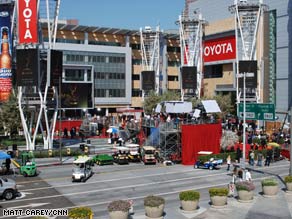 The Emmy red carpet area outside Nokia Theatre in downtown Los Angeles.
It wouldn't be the Emmys if it wasn't boiling on the red carpet. The temperature is about 80 degrees just as the arrivals lines are getting under way in L.A. for the 60th annual Primetime Emmy Awards, so if you like your stars hot to the point of melting, you're in luck. (For those of you in southern climes, 80 degrees may not seem hot, but in temperate L.A., on a red carpet, surrounded by lights and photographers and equipment, it's positively scorching.)
You will notice as the arrivals continue that the greasepaint starts to smear a bit and celebrities begin to look a little bedraggled as they inch toward the Nokia Theatre. This is the sweaty underside of the glamorous business of entertainment.
Stars have been known to Botox their underarms to avoid perspiring profusely in these conditions. The wonders of science!
- Matt Carey, CNN Entertainment Producer