Has it really been three months already? Is it already time to get ready for fall?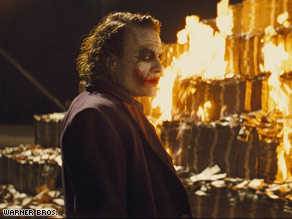 Heath Ledger's performance in "The Dark Knight" is earning Oscar talk.
If that's the case, then it seems like a good time to take stock and pick out a few favorites from summer 2008:
Movie: "The Dark Knight." What can I say? It lived up to the hype. Director and co-writer Christopher Nolan - helped immeasurably by performances from Heath Ledger, Gary Oldman and several others – gave a nifty comic book movie several deeper and darker layers. Expect to see several nominations come Oscar time.
CD: "Pacific Ocean Blue," Dennis Wilson (Legacy). Brian Wilson wasn't the only Beach Boy capable of genius. Brother Dennis' 1977 album, given the special anniversary treatment that includes a number of cuts from the unfinished follow-up "Bambu," emerges as a gorgeous, fragile testament to the late drummer. Dennis Wilson had written some terrific songs for the late-'60s/early '70s Beach Boys - "Little Bird," "Forever" - but few would have thought he'd have something like "Pacific Ocean Blue" in him.
Also: "The Hard Way," James Hunter (Hear Music). The British retro-soul guitarist does it again with 12 songs Jackie Wilson or Sam Cooke would have been proud to cover - and guitar-playing that brings it on home. (If Hunter ever visits your town, see him. The man is a wizard.)
DVD: "All You Need Is Love" (Zeit). British documentarian Tony Palmer's 1976-80 history of popular music is now (finally!) available on a 5-DVD set. Palmer took on an ambitious task, suggested by John Lennon, to chronicle popular music from its roots in field hollers and music halls, showing how Rudy Vallee was connected to Frank Sinatra, Elvis Presley and David Bowie. Unfortunately for Palmer, his filming ended just as punk was coming alive, but what remains is still an incredible wealth of material, with interviews and performances from the likes of Dizzy Gillespie, Jerry Lee Lewis and the Who. If, in hindsight, the filmmaker occasionally missed out ... well, hindsight is 20/20.
TV: The Olympics. One exciting moment after another.
Books: As always, I've spent the summer desperately trying to get books out of my ever-growing To Be Read pile and actually reading them, so very few are recent releases. (Jeremy Larner's 1970 chronicle of the Eugene McCarthy campaign, "Nobody Knows," and Neal Gabler's 1994 Walter Winchell biography have been the best books I've read lately, with Larner's one of the best of my year.) Indeed, I believe I've simply put recent releases in, well, the To Be Read pile. But I will get to "Traffic" and "The Story of Edgar Sawtelle" soon. In the meantime, Mark Twain awaits.
- Todd Leopold, CNN.com Entertainment Producer