Of course all the Isaac Hayes obituaries are leading with "Theme from 'Shaft,' " the No. 1 song that won Hayes an Oscar and Grammy and became his most famous hit.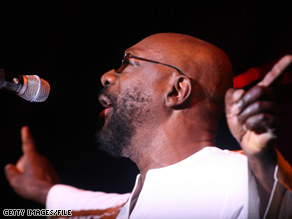 Isaac Hayes was an accomplished writer, producer and singer.
And then they mention his performance as Chef in "South Park," which earned Hayes a whole new generation of fans (many of whom can recite the lyrics to "Chocolate Salty Balls" from memory).
But let's not forget about Hayes' other contributions: writer, producer, and - yes - fashion plate.
Through his involvement with Stax Records, the Memphis label that was home to Sam and Dave, Otis Redding, Carla Thomas and Booker T. and the MGs, Hayes - with partner David Porter - created some of the most indelible soul classics: "Soul Man," "Hold On, I'm Comin' " (which, legend has it, was inspired by a bathroom break), "I Thank You."
He then expanded the genre with his 1969 album "Hot Buttered Soul," which consisted of four songs - one of them a monumental 18-minute version of Jimmy Webb's "By the Time I Get to Phoenix." "With the release of this album, Motown suddenly seemed manufactured and James Brown a bit too theatrical," writes Allmusic.com's Jason Birchmeier.
And the Hayes look? Unforgettable: proudly bald, heavily jeweled, wearing flowing outfits befitting an African king. "It was almost as if he was made to be a musical god," writes The Associated Press' Nekesa Mumbi Moody.
We can dig it.
- Todd Leopold, CNN.com Entertainment Producer