The New York Times' Frank Rich had an interesting column yesterday about the film "Wall-E" and its depiction, in Rich's words, of "a world in peril."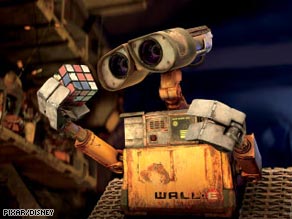 Wall-E ponders humanity's debris in "Wall-E."
Indeed, the settings of "Wall-E" are pretty bleak. The movie spends a good part of its first half in a dried-up, dusty, brown world of the future, where the title robot compacts the trash he finds and stacks it into giant towers. The highways have fallen apart, the skyscrapers are empty, and about the only bright color is provided by the scenes from "Hello, Dolly!" that Wall-E watches religiously.
And even though the movie's other world -– that of the spaceship Axiom, which contains the mass of overweight humanity –- is brightly lit, it's not exactly the most promising place. Humans zone out to endless TV programs, carried in floating chairs so they never have to walk. About the only excitement is provided by the messages from the ruling corporation, the ubiquitous Buy N Large, urging people to shop - or, simply, do nothing and enjoy their comfortable lives.
(I'm reminded of Ned Beatty's speech from "Network": "And our children will live, Mr. Beale, to see that perfect world in which there's no war or famine, oppression or brutality … all necessities provided, all anxieties tranquilized, all boredom amused.")
Yes, there's a wonderful love story, some Chaplinesque slapstick and an upbeat ending. But still, even putting aside Rich's political points - that's a topic for the CNN Ticker - much of "Wall-E" is sobering stuff for an adult, never mind a child. (CNN.com Tech Producer Brandon Griggs has a similar take.)
Which gets me wondering. How are children reacting? I don't have any children, but the ones I saw at my local theater appeared to be having a good time. However, I wonder what questions they asked when they got home - and if the more downbeat portions of the movie lingered on after the love story and humor wore off. (They certainly did for my wife and me.)
So for all the parents and grandparents out there: What are your children saying about "Wall-E"? What do you tell them? And would you encourage others to go?
- Todd Leopold, CNN.com Entertainment Producer
UPDATE, 7/8 11:20 a.m.: We've been deluged with comments, so apologies to all those who haven't gotten theirs posted. I'm working on it - but rest assured, you've been heard (or read).