"Eddieee … what have you done for me lately?"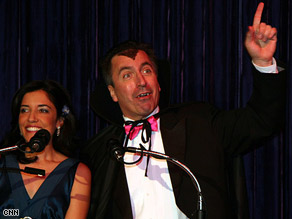 The Razzie winners were announced Saturday in Santa Monica, just a short drive from Hollywood.
That was a famous punch line in "Eddie Murphy Raw," and it's clearly appropriate after Murphy got skewered at the Razzie Awards on Saturday morning. He "won" three awards - worst actor, worst supporting actor and worst supporting actress - for the 2007 bomb "Norbit," and he was a constant target for the wisecracking Razzie presenters.
It's crazy to think the guy was nominated just last year for an Oscar. And he might have won, too, if - as one presenter pointed out - "Norbit" hadn't been released just before the Academy Awards. Awful timing.
And Lindsay Lohan, she got it even worse. If you want to hear what the presenters had to say about her and "I Know Who Killed Me," check out this audio slideshow.
Razzies founder John Wilson said he invited Lohan and Murphy to come to the show and accept their awards - like Halle Berry did a few years ago - but they apparently didn't think much of that idea. Too bad.
I wonder how I would feel if some of my work was mercilessly ripped like that. I'd like to think I'd be able to laugh at myself, especially if I had past accolades and millions of dollars like Lohan and Murphy. But who knows?
"Movies You'll Hate in 2008": At the end of the Razzies, a video screen showed some possible favorites for next year.
There were slides for "Jumper," "Horton Hears a Who!" and Tom Cruise ("Valkyrie"). But the loudest ovations were for "Rambo" and the Paris Hilton flop "The Hottie and the Nottie."
- From CNN.com Senior Associate Producer Kyle Almond