David and Victoria Beckham are over the moon with their fourth child (and first baby girl) Harper Seven, and they're showing off photos of their newborn.
On his Facebook page, David posted a photo of Victoria holding Harper, along with the message, "I took this picture of my two girls sleeping."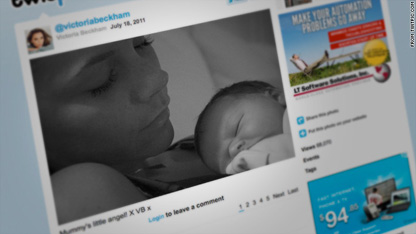 And over on her Twitter account, Victoria revealed a photo of David holding their newborn daughter, writing, "Daddy's little girl!"
It's just the latest in proud mommy tweets from Victoria, who wrote on Thursday that she was crazy for week-old Harper.
"Baby Harper is the most beautiful baby girl I have ever seen, I have fallen in love all over again!!!" she wrote. "We all feel so blessed," she went on, adding that the couple's sons Brooklyn, 12, Romeo, 8, and Cruz, 6, " love their baby sister so much!!!"
David and Victoria welcomed their daughter on July 10, and seeing that Harper was born in the seventh hour on the seventh day of the week in the seventh month of the year weighing in at 7 pounds - and that her dad's jersey number was also a seven - the middle name, also considered a lucky spiritual number, was a natural fit.