Lindsay Lohan climbed into a silver vehicle with tinted windows to make her way to Century Regional Detention Facility in Lynwood, California, where a 12-foot-by-8 foot jail cell awaits.
Lohan's new home may not be completely unlivable. According to one woman who has served time at the facility, she expects Lohan to receive "her own room and a phone and better food," the L.A. Times reports. However, another inmate described the facility as "horrible," adding that "it's not a nice place to be...they do that on purpose so you won't come back."
Although you can't see much of Lohan – aside from the photographers who were all over the place at this sentencing – check out photos of Lohan departing for jail after the jump.
Side shot of Lohan's getaway car: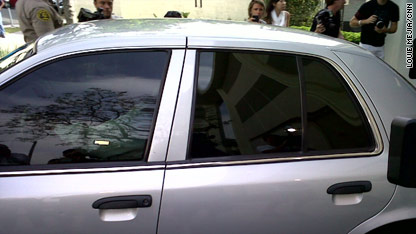 And the frenzy of photographers snapping away, despite the heavily tinted windows: