What haven't you heard about Angelina Jolie? Well, in the August issue of Vanity Fair, Angelina Jolie puts to rest all those rumors about her life and family with partner Brad Pitt.
"No, I'm not pregnant," Jolie, 35, told the magazine, though she does admit that she and Pitt, 46, plan to add to their brood of six – eventually. "We want to make sure we don't build a family so big that we don't have absolutely enough time to raise them each really well."
That's why the "Salt" star will eventually scale back her work schedule. "I don't think I'll do it much longer," she said of acting. "Because I have a happy home….I got back from work last night, and everybody was playing music and dancing, and I suddenly found myself dancing around with a bunch of little fun crazy people."
Though she doesn't comment on son Pax, Jolie said that Maddox is a "real intellectual… He feels like he could be a writer"; Zahara is "just so elegant and well spoken"; Shiloh is "hysterically funny, one of the goofiest, most playful people you'll ever meet"; and twins Knox and Viv are "classic boy and girl. She's really female. And he's a little dude."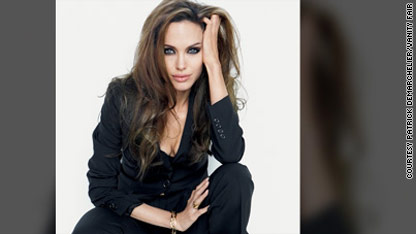 Jolie added that she was most like Shiloh growing up. "I used to get dressed up in costumes and jump around. But at some point, I got closed off, darker… I think you just get hit with the realities of certain things in life, think too much, start to realize the world isn't as you wished it would be, so you deepen. Then, as I had kids and got older — being goofy, lighter — it all came back."
As for whether she'll ever walk down the aisle with Pitt – whose shaggy beard wasn't a turnoff to Jolie ("I love Brad in every state") – the actress said they aren't "against getting married," but "it's just like we already are. Children are clearly a commitment, a bigger commitment [than marriage]. It's for life."
Still, she wouldn't mind teaming up with her "Mr. & Mrs. Smith" co-star again on the big screen – maybe in that "Cleopatra" film that's in the works?
"It's really about finding the right thing," she said. "When you're a couple, there are certain things people don't want to see you do. It becomes too indulgent, too personal. I don't think people want to see people who are really together intimate on-screen."