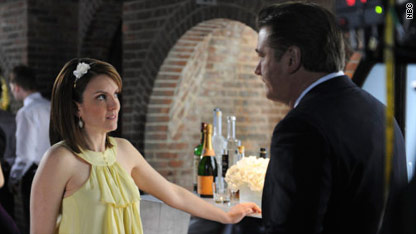 Editor's note: You know how it goes - if you hate spoilers, stop reading now.
Sadly, last night's "30 Rock" season finale fell a bit flat. As a rule of thumb, sitcoms usually fall short when you take the characters out of their element, and this one definitely did with three weddings in three separate places.
But there were two highlights: Liz may finally have a chance at love and the possibility that we won't have to hear what might be the worst Boston accent in the history of accents next season.
Yep, Jack has ended the love triangle he's been caught in. Nancy, played by Julianne Moore, is sent packing back to Boston after Jack finds out Avery (Elizabeth Banks) is pregnant with his child. This leaves us wondering what kind of father Jack is going to be, and how drastically his character is going to have to change to be a dad. Let's hope that Jack doesn't go soft on us.
While Tina Fey is quite attractive in real life, poor Liz Lemon gets stigmatized as the nerdy behind-the-scenes writer destined for clumsiness. This episode finally allows Liz to show a slightly more feminine side without being totally ripped on by her colleagues. Her bridesmaid's dresses aren't nearly as atrocious as they could have been. Is this a sign that Liz will become more girly? Let's hope not; the nerdy glasses and her inability to follow social norms are part of her charm.
Liz's new love interest isn't quite the astronaut she's always dreamed of being with. Yet dreamy Matt Damon comes pretty close, playing a commercial airline pilot named Carol who may be just as challenged on the dance floor as Liz. Let's hope to see more of him next season and less of Liz's other beeper-wearing boyfriends.