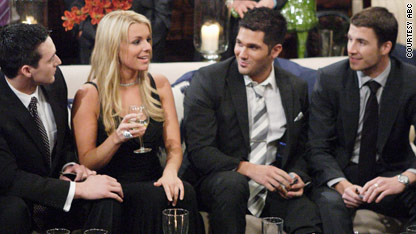 The last time we saw Ali Fedotowsky, she walked away from "The Bachelor" Jake Pavelka due to work commitments at Facebook.
Now, Fedotowsky has chosen love over work.
The San Francisco native, who finished fourth in the most recent "Bachelor" competition, has quit her job to become the next "Bachelorette." The sixth season of the popular dating show begins May 24 on ABC.
This season, Fedotowsky will have 25 suitors, including a weatherman, an aspiring writer and a pro wrestler. As in previous seasons, the search for love will take Fedotowsky and the contestants around the world, including a helicopter ride over the infamous Icelandic volcano that's caused numerous travel headaches throughout Europe.
Of course, it couldn't be "The Bachelorette" without scandal and based on ABC's promos, fans should expect a doozy or three this season.
If you can't watch "The Bachelorette," and/or you're looking for a humorous take on the show, don't forget to drop by every Tuesday this season for my "Bachelorette" recaps; it'll be a fun way to waste a few minutes of your day.
Are you ready for this season?