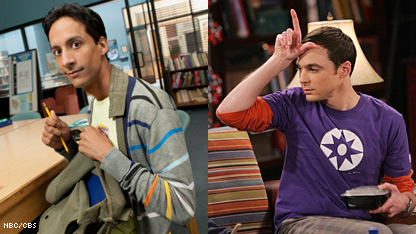 CBS surprised pretty much everybody today by moving comedy powerhouse "The Big Bang Theory" to Thursday nights at 8 p.m. ET. Judging by "Theory" star Kunal Nayyar's Twitter feed, some fans were not too happy about the development. NBC, however, is probably the least happy of anyone about this.
NBC has been slowly building up their 8 to 9 p.m. Thursday night hour leading in to "The Office" and "30 Rock." In fact, they just moved "30 Rock" to 8:30 p.m. following "Community," a show with strong support from critics and fans online (another critical fave, "Parks and Recreation," had its third season postponed to early 2011). "30 Rock" will now go up against the new comedy "$#*! My Dad Says," starring William Shatner.
When asked about this move, CBS scheduling chief Kelly Kahl told The Hollywood Reporter, "We're not in the charity business. performance of [NBC's] comedies is not something that deterred us. People like those shows, but they're not setting the world on fire ratings wise."
In response, "Community" creator Dan Harmon tweeted, "Well, if CBS thinks I'm a big enough threat to send a terminator, the least I can do is prove them right."
He also joked to "Big Bang" producer Bill Prady, "Welcome to 8. Not a lot here but vampires and bones. I'll give you half of any viewers I find. Okay, more than half."
Meanwhile, Prady is seemingly (or perhaps jokingly) taking all of this in stride, tweeting, "Not checking showbiz news. Want to be surprised by by fall sched in September."
One can't help but be reminded of "The Simpsons" taking on "The Cosby Show" on Thursday nights nearly 20 years ago. Back then, of course, NBC was doing a lot better in the ratings and Fox had the new hot show. This time, you've got a battle between nerds Sheldon and Abed, followed by Liz Lemon versus Captain Kirk (Liz, of course, is a "Star Wars" fan).
Who will emerge victorious? "Big Bang" is extremely popular but it's hard to say how much of that has to do with its post-"Two and a Half Men" timeslot. NBC is known as the home of Thursday comedy but it's hard to say if "30 Rock" can maintain its viewership at 8:30.
Share your thoughts on this fall's fight for laughs below.