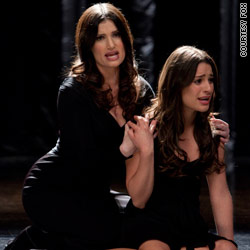 I am afraid.
I so wanted Idina Menzel's character to be Rachel's mother that when it was revealed on Tuesday night's show that she is, I had a moment of "Yes!" followed by, "Wait, what if it's a trick?"
Or a dream, as that was the theme of the episode.
Right out of the gate I loved, loved, loved Neil Patrick Harris. During a conference call with Joss Whedon, who directed this week's episode, he discussed how much fun it was to work on the show and that completely came through in the final result.
Harris' Bryan Ryan character had it all: timing, great singing and a crazy chemistry with Jane Lynch's character, Sue Sylvester. You have "a secret room upstairs" just like Letterman, Sue? Really? Thanks for that mental image!
It was wonderful to get to see more of Artie's story, which gave us more screen time for him and his girlfriend Tina. I wanted to cheer when he was up out of the wheelchair doing "The Safety Dance." That was some epic television right there, with the way it was shot like a flash mob.
But back to Rachel and her "mom." Menzel and Lea Michele, who plays Rachel, are both Broadway veterans and they KILLED singing "I Dreamed a Dream."
Please, oh please let them really be mother and daughter for true. I need more of the two of them together.
And if I wasn't already in a Gleek frenzy, next week is the Lady Gaga episode. I wonder if they will make the piano player (who I had the pleasure of interviewing recently) dress up!