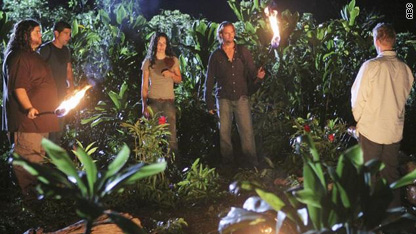 The cast of 'Lost'
Fifteen episodes ago, who knew that the "flash-sideways" would provide so much of the excitement leading up to the series finale on "Lost"?
When it came to those much-desired answers and a real sense of finality, there was certainly quite a lot to be found in the island scenes of Tuesday night's episode. But if you were looking for some old-fashioned thrills (including a jail break!), the scenes in the parallel timeline really delivered.
First of all, let's get the stuff we all knew was coming out of the way: Jack is the new Jacob. Not since Michael being revealed as the man on Widmore's boat has anything been so obvious.
Speaking of Widmore, his killing of Alex really came back to bite him, didn't it? Miles sensing Alex's body jogged Ben's memory at precisely the wrong time for Widmore, who hid inside the secret "Smokey"-summoning room - "It was summoning me," he said - and was handed over by Ben quite willingly. After "Smokey" slashed Zoe's throat, Ben gunned down Widmore in order to stop him from revealing the information that would save his daughter's life.
Ben tagged along, however, promising he would continue to kill whomever "Smokey" wanted when they found out that Desmond was still alive and no longer in the well. "Smokey" reveals that he'd heard enough from Widmore to believe that Desmond can help him destroy the island.
As for Jacob, he pays what seems to be a final visit to Hurley (I still don't get why he takes his childhood form at certain times) before appearing to all of the remaining candidates... including Kate. Her name was crossed off before she became a mother but it doesn't entirely disqualify her (question answered!). The reason all of the original candidates, and passengers of Oceanic 815, were brought there was because they were alone and looking for something they couldn't find... something the island gave them. Since Sun became a mother, that would probably make Jin the Kwon candidate (question kinda answered!).
Jacob gives the remaining candidates a choice as to who will be his replacement, something he never got (though in Mother's defense there weren't too many other options). So after the non-suspense about who would step up to fill Jacob's shoes and kill "Smokey" (or die trying), Jack was taken to the magical hidden stream, took a swig and hocus-pocus: He's the new Jacob. I look forward to seeing how this changes things.
Still no idea where Desmond is on the island but he was quite present in the "flash-sideways," jogging Ben's island-memory with a few well-placed slugs to the face (for old time's sake), confessing his crimes to Sawyer so he can go to jail and eventually break out Kate and Sayid - with a little help from the "island-aware" Hurley, and crooked cop Ana Lucia. They had a concert to attend (the same one at the museum, which Miles mentioned). I'm really looking forward to seeing where all this goes.
Another interesting development was "flash-sideways" Locke starting to believe that he was fated to meet Jack and he's ready to get out of the wheelchair. I have a feeling that this will make him "let go," alright.
Some pre-finale thoughts:
– Richard wasn't killed by the smoke monster, he was just hurled out of the way. I have a feeling he's lived through worse than that.
– I don't think they would throw in that glimmer of hope a few weeks ago about Ben's possible redemption if he was going to relapse entirely. I think he has every intention of double-crossing the Monster Formerly Known as Locke.
– My best guess about "Smokey's" plan? He wants to send Desmond into the mystical light the same way he was. Instead of becoming a smoke monster, I think he believes this will destroy the island.
– Apparently Sayid didn't help Desmond out of the well. So who did?
– I'm guessing the burned ashes are symbols of Jacob's protection.
– If someone in the parallel timeline "lets go," but is dead in the original timeline, such as Locke or Sayid, does it make a difference?
– The Others and their relationship to Jacob and the smoke monster is still not clear, unless we're supposed to figure out that the Others just came to the island "by accident." Even so, where did the statue come from?
– Ben's realization in the parallel timeline that Alex is like a daughter to him was one of the sweeter moments this show has had. Bonus points for Rousseau's appearance.
– The cuts Jack keeps seeing on his neck seem to coincide with catastrophic happenings on the island.
Last week's episode looks better in light of this one, despite some still-unanswered questions left. Without last week, a lot of context would have been missing. "Smokey" seems very talkative to Ben, so I expect a few more blanks to be filled in there, but overall I'm excited to see if Jack and Desmond combined can stop "Smokey." It's certainly anyone's guess as to who will make it out of this confrontation alive.
How are you feeling as we head into the home stretch? Did you enjoy the "flash sideways" this week as much as I did? Share your thoughts and theories on video, or in the comments below.