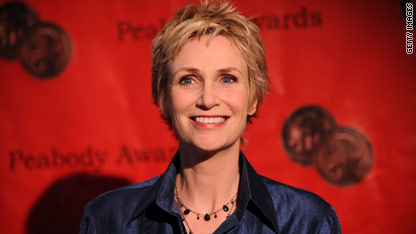 Oh, go ahead and let him have his opinion, says Jane Lynch.
The actress, who is engaged to her longtime girlfriend Lara Embry, has a different take on the Newsweek piece, "Straight Jacket," that says that gay actors can't convincingly play straight. That dustup sparked "Glee" creator Ryan Murphy and occasional guest-star Kristin Chenoweth to release statements condemning the piece; the writer of the piece, Ramin Setoodeh, has since agreed to visit with Murphy and his writing team.
But Lynch, who said she's happy that Murphy and Chenoweth stood up, has a varying opinion of Setoodeh.
"The thing is, actors are actors: You can't play gay anymore than you can play somebody who's Catholic," Lynch told Entertainment Weekly.
"Aaron Sorkin wrote a wonderful thing in the Huffington Post. I don't think you have to slap somebody down for making an opinion that you don't agree with," Lynch said. "But I do think what Kristin and Ryan did was so important, and I'm glad that they said it. It doesn't mean, 'Off with [Setoodeh's] head.' But I'm very glad, and I thought it was very heroic what the two of them did."