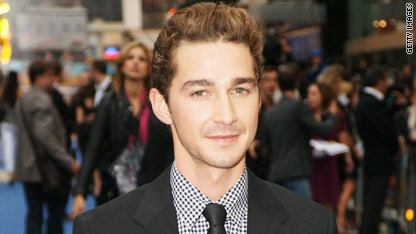 If anything, Shia LaBeouf is honest.
The 23-year-old told reporters at the Cannes International Film Festival that the last time he starred in a sequel, 2008's "Indiana Jones and the Kingdom of the Crystal Skull," he dropped the ball.
True, the flick earned $787 million worldwide, a blockbuster by studio standards, but there were problems with it, LaBeouf said, and that challenged him when he took on another popular film sequel, this year's "Wall Street: Money Never Sleeps."
"I feel like I dropped the ball on the legacy that people loved and cherished," LaBeouf told the newspaper. "If I was going to do it twice, my career was over. So this was fight-or-flight for me."
He said that he didn't think the film fooled anyone, and he blamed his acting skills – not the writers or director Steven Spielberg.
"You get to monkey-swinging and things like that and you can blame it on the writer and you can blame it on Steven. But the actor's job is to make it come alive and make it work, and I couldn't do it. So that's my fault," he said. "I think the audience is pretty intelligent. I think they know when you've made ... . And I think if you don't acknowledge it, then why do they trust you the next time you're promoting a movie."
He also said Harrison Ford wasn't too happy with the film.
"We need to be able to satiate the appetite," he said. "I think we just misinterpreted what we were trying to satiate."
But will saying any of this get him in trouble with Spielberg?
"I'll probably get a call. But he needs to hear this. I love him. I love Steven. I have a relationship with Steven that supersedes our business work. And believe me, I talk to him often enough to know that I'm not out of line," the actor said. "I would never disrespect the man...He's done so much great work that there's no need for him to feel vulnerable about one film. But when you drop the ball you drop the ball."