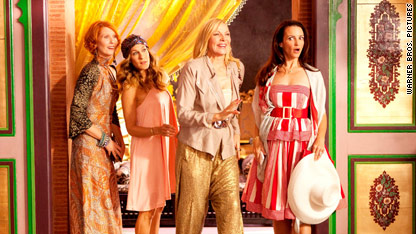 Once upon a time, a popular HBO series filmed three alternate endings just to keep the rumor mill from churning. Today, the franchise's second film is just two weeks away from the box office and the rumor mill is no longer needed.
Nine scenes from "Sex and the City 2" recently showed up online, leaving little to the imagination.
But is an exotic vacation or an ex-boyfriend enough to surpass the more than $55 million "Sex and the City" brought in during its first weekend at the box office in May 2008?
Of course the first film didn't have Miley Cyrus and Liza Minnelli, Abu Dhabi or John Corbett as Aiden Shaw to work with.
(Spoiler Alert)
Even so, the leaked scenes are nothing a loyal fan of the franchise didn't already see coming: Miranda, the workaholic, no longer loves her job. Charlotte, the perfect wife and mother, is threatened by her hot nanny. Samantha, the independent sexual hybrid, is popping vitamins to outsmart menopause. And Carrie is once again torn between Aiden and Big.
And one you may or may not have seen coming - Stanford Blatch and Anthony Marantino are tying the knot.
 Will you see "Sex and the City 2" in theaters on May 27?