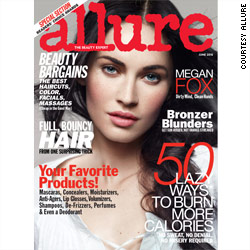 A few things about Megan Fox Allure magazine would like you to know: She's self-aware; she hates compliments (please, don't tell her she's talented; it feels forced); and those sexual innuendos in interviews weren't cries for attention but rather attempts at satire.
"I was really open when I first started, trying to be light-hearted and have a sense of humor and engage in some sort of satire sometimes," Fox said in the interview. "It did backfire to a certain extent…I still have the same sense of humor, but no desire to express it, really."
But as Fox tries to lessen the amount of potential ammo the public can use to harp on her sexuality, others keep putting it front and center, like whomever snapped a photo of her topless while on set for an upcoming indie, "Passion Play."
The photo, Fox said, is reason enough to cause physical harm. "I'm not a [expletive] reality TV star who wants my [expletive] picture taken all the time. I'm at my job and I'm trying to play a character and I'm trying to be serious and this is the [expletive] that happens to me."
If this interview had been on a TV show, there would've been at least six bleeps, although there could've been 24 if the magazine had printed them all – Fox has a thing for a word that starts with "f" and ends in "k." [And no, we can't just "say it."]
Whether or not this is the same word that Fox will become obsessive about, she didn't say, but the 24-year-old actress did admit that she struggles with obsessive thinking.
Last winter, Fox enlisted psychiatric help when her fear of germs led her to wash her hands so much her knuckles bled. "I said, 'This is a sickness, I have an illness, this has moved beyond, "Oh I need my hands clean,"'" Fox recalled.
"People can't imagine what the struggle is really like, when you can't let go of a thought or a word," Fox added. "All day and everyday. And I can engage in a conversation with someone and seem like I'm present, and the whole time I'm in my own head, thinking about something else, worrying about something else."
Fox said she knows she can come off as a little strange, so she certainly must have known how saying she'd starve to death before she'd cook for herself would be interpreted, especially following that statement up with, "I could survive a week without eating." She added that she'll "eat the same thing every day for two months, and then never eat it again. I did that with Life cereal. I ate it every day for so long that the thought of it makes me upset."
Fox's next movie is "Jonah Hex," co-starring Josh Brolin and John Malkovich, in theaters June 18. To read the full interview, pick up Allure's June issue, on sale May 25.