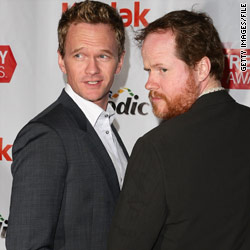 Joss Whedon just can't seem to get away from Neil Patrick Harris.
"I am so tired of that guy," Whedon joked during a recent conference call. "Why do they always make me direct Neil?"
The "Buffy the Vampire Slayer" and "Dollhouse" creator has a good thing going with the "How I Met Your Mother" star. The pair have worked together on "Dr. Horrible's Sing-Along Blog" and have once again teamed up for Tuesday night's episode of  "Glee."
Harris guest stars on an episode titled "Dream On" as a rival to actor Matt Morrison's character Mr. Schuester and the episode has a decided, fantastical Whedon touch.
The director said it was a pleasure settling in short term with the "Glee" family and working with his bud Harris.
"I feel like [Harris is] one of those people who expresses the way I wish I could express myself," Whedon said. "He's like a muse, and he's friends with Matt.  The sort of rivalry/affection between them just informed the whole thing so much.  We had such a good time."
It's not the first time Whedon has directed a show that was not his own. He's also leant his creativity to series like "The Office."
But he says he's done directing show he's a fan of because he's often behind on episodes and having to catch up on the action spoils it for him.
"It's like a giant slew of spoilers that quite frankly is not fair," Whedon said. "I would say after "Glee," "Friday Night Lights" is probably the show that blows me away the most.  But, I definitely don't want to direct one of those, because I'm still on Season 2."
During the call, Whedon declined to give updates on any of his other rumored projects including a reported gig to direct "The Avengers" for the big screen.
He instead focused on his current and past work like "Dr. Horrible" and the musical episode of "Buffy" which he said helped prepare him for "Glee."
And fans shouldn't rule out a possible return to "Glee" by Whedon.
"It's the kind of thing that I would like to spend a lot more of my time doing," he said. "I love musicals deeply and dearly. This was a return to home for me.  Not my home, but a very welcoming one."