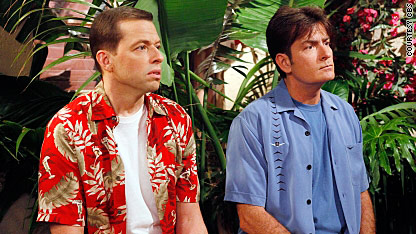 After weeks of reports claiming that Charlie Sheen was ready to move on from CBS' "Two and a Half Men" at the end of this season, it looks like the actor has had a change of heart. Sheen signed a new contract for the show yesterday.
"To put a fitting end on the two and one-half months of whirlwind speculation, I'm looking forward to returning to my CBS home on Monday nights," Sheen's rep, Stan Rosenfield, told CNN in a statement on behalf of the actor.
The speculation began in April with reports that Sheen wanted out of the hit series, which has been on CBS for seven seasons. Rosenfield confirmed to CNN that the actor did tell friends he was ready to make an exit, adding that Sheen's contract with Warner Bros. was up this year although CBS has contracted the show for at least two more seasons.
At the time, Rosenfield said Sheen was looking towards new horizons. "Charlie has done this for seven years," Rosenfield said. "There are new things to do, new challenges. He wants to do more movies, and doesn't always get the opportunities during the hiatus [of the show]."
As "Two and a Half Men" approached it's final episode of the season, more rumors began to circulate that Sheen was using the negotiation as a way to squeeze more money out of the network. But in a statement to People, Sheen denied those rumors, saying that he'd submitted his terms for an eighth season as far back as June of 2009.
"Both parties have known the score for over a year," Sheen said in the statement.