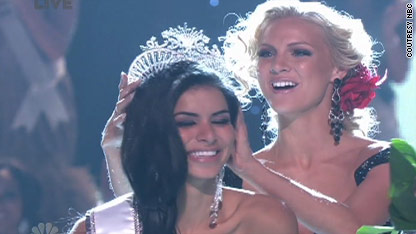 Pageant questions are tricky business.
There was the drama ignited last year when Miss USA contestant Carrie Prejean was asked about same-sex marriage laws, and one can only imagine how Miss South Carolina would've answered had "The Office's" Oscar Nunez tossed her the same controversial query he asked Miss Oklahoma Morgan Elizabeth Woolard during Sunday's Miss USA competition.
"Arizona's new immigration statute authorizes law enforcement authorities to check the citizenship of anyone they believe to be in the country illegally," Nunez started, as the crowd began to boo.
Woolard was surely weighing her words carefully, since the audience was getting riled before Nunez could even get the question out.
"Listen to the question before you boo," he cautioned the audience. "Critics say this may amount to racial profiling. Do you think that this should be mandated by the state or by the federal government?"
Without missing a beat, Woolard answered that she's "a huge believer in state's rights," adding that she thinks that's "what's so wonderful about America.
"So I think it's perfectly fine for Arizona to create that law, and I'm against illegal immigration but I'm also against racial profiling so I see both sides in this issue," Woolard continued as the crowd's reaction vacillated between whoops of support and jeers of disagreement.
Regardless of how the attendees felt about her response, Woolard was the first runner-up to the Miss USA title, which ended up going to Miss Michigan, 24-year-old Arab American Rima Fakih.
Fakih is thought to be the first Arab American and Muslim to take the Miss USA crown, according to the Detroit Free Press.