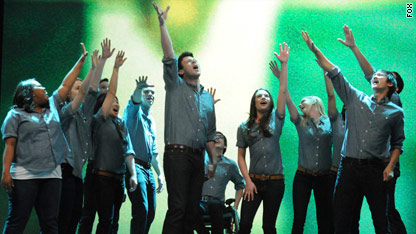 "Glee" is getting the most coveted slot in all of television - Fox says the musical comedy will air a special episode immediately following Super Bowl XLV on February 6, 2011.
Networks typically use the post-Super Bowl slot to premiere new series or strengthen current programs.  CBS premiered its reality series "Undercover Boss" after Super Bowl XLIV in February.  The premiere garnered 38.6 million viewers, and the show soon became a strong player on a tough Sunday night.
"Glee" will also launch a Tuesday night comedy block for Fox this fall.  In all, Fox will unveil two dramas and two comedies. See the full schedule here:

FOX FALL 2010 SCHEDULE
Monday (All times Eastern)
8 p.m. - "House"
9 p.m. - "Lonestar"
Tuesday
8 p.m. - "Glee" (new time slot)
9 p.m. - "Raising Hope"
9:30 p.m. - "Running Wilde"
Wednesday
8 p.m. - "Lie to Me" (new time slot)
9 p.m. - "Hell's Kitchen" (new time slot)
Thursday
8 p.m. - "Bones"
9 p.m. - "Fringe"
Friday
8 p.m. - "Human Target" (new time slot)
9 p.m. - "The Good Guys"
Saturday
8 p.m. - "Cops"
9 p.m. - "America's Most Wanted"
Sunday
7 p.m. - NFL post game/football overrun
8 p.m. - "The Simpsons"
8:30 p.m. - "The Cleveland Show"
9 p.m. - "Family Guy"
9:30 p.m.– "American Dad"
Info on new shows:
"Lonestar" - described by Fox as a "sophisticated and provocative drama set alongside the sprawling backdrop of big Texas oil," the drama concerns a young man caught up in the oil industry.
"Raising Hope" - this sitcom from Greg Garcia ("My Name is Earl") concerns a single man trying to raise his young daughter with the help of his eccentric family. 
"Running Wilde" - fans of "Arrested Development" may get a kick out of this sitcom from "Development" executive producers Mitch Hurwitz and Jim Vallely.   The show stars Will Arnett as a playboy trying to win the heart of his childhood sweetheart (Keri Russell), who's the complete opposite of Arnett's character.
"The Good Guys" - premiering this Wednesday with a special "preview" episode after "American Idol," this lighthearted cop drama stars Bradley Whitford and Colin Hanks (Tom's son) as mismatched partners.
Fox will also be busy during the midseason, thanks to the return of "American Idol" and the premiere of what the network describes as an "epic family adventure 85 million years in the making."
That show is "Terra Nova," and it lists Steven Spielberg and a few "24" showrunners (Brannon Braga, David Fury) as executive producers.  The show concerns a family from the 22nd century that goes back to prehistoric times to try to save the human race. 
As for "Idol," the talent show will get a bit leaner for its first post-Simon Cowell season, airing 90-minute performance and 30-minute results episodes next year.  Fox says the network is "listening to the show's fans" by beefing up the performance aspect of "Idol" while cutting back on the filler.