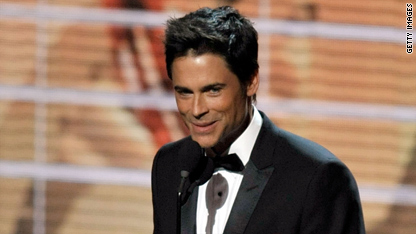 This time last year, "Parks and Recreation" appeared to be struggling, a show built around the brilliant Amy Poehler, unable to find its voice separate from "The Office." One year later, and it's become one of the funniest shows on TV - every one of these Pawnee residents is unique and hilarious in their own right.
So how would a new cast member (or two) add to the ensemble? Rob Lowe, fresh from leaving "Brothers and Sisters," started on Thursday night's episode, playing an overachieving state auditor who lets his assistant (played by "Party Down's" star-in-the-making Adam Scott) do all the work, while he works on his exercise regimen. His best moment was when he talked about the enormous vitamin he had to take later in the day ("It's a choking hazard.")
However, Scott and the rest of the cast had much more to do, and the ongoing "will-they-or-won't-they" between Andy and April continued. I can't believe how much I'm rooting for those two crazy kids to get together - loved Andy's realization that since Tom says it's OK, it's probably not.
Thankfully, April won't have Ann to worry about too much more, as it was revealed that she drunkenly made out with Lowe's character the night before (and not Andy or Ron "Good God, woman, no!" Swanson). It seems to me that they're putting Leslie together with Scott's character Ben as well. Best of all, I was pleased to see Tom Haverford get an actual love interest in "The Middleman" alum Natalie Morales.
Aside from the romantic goings-on, there's the little matter of the entire shutdown of the Pawnee government, following Ben's investigation. Leslie and Ron's polar opposite reactions to this were a nice punchline to the shocking news (Nick Offerman may have pulled off the best suppression of unbridled glee I have ever seen). Let's hope the cast won't have to go their separate ways (though it's no secret that Mark Brendanawicz's days are numbered, with Paul Schneider leaving the cast).
What did you think of Lowe's contribution to "Parks and Rec" so far? Do you look forward to this show each week as much as I do? Share your views on video, or in the comments below.