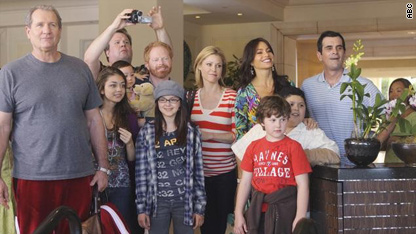 The sitcom vacation is a time-honored tradition (I'm looking at you, "Brady Bunch"). So how would TV's newest hit comedy handle a trip to Hawaii in its first season?
I will say that "Modern Family" made a pretty seamless transition to having one of their typically uproarious episodes take place in the Aloha State. There were no big gimmicks (no mysterious tikis here), just the usual interplay between characters that we have grown to know and love over this past season.
Mitchell and Cameron were a highlight, as they are in most episodes, getting into a fight over the fact that Cameron actually doesn't like to have an adventurous vacation the same way that Mitchell does. At one point, Cameron had Mitchell getting the full spa treatment in his beach chair without even knowing it. When Mitchell asked, "What's this?" about the drink he was sipping, Cameron replied, "Happiness."
Unfortunately, that was short-lived as the two briefly lost Lily on an elevator, and then on a hike among a cluster of palm trees ("She's going to think she's back in Vietnam!" Mitchell worried).
Meanwhile, Phil was determined to give Claire a romantic vacation, despite the kids. She later regretted letting Haley go off on her own, when Haley ended up drunk and throwing up. ("Does this always happen when you drink?" she asked, to Claire's reply of "Yes.")
Phil saved the day at the end, giving his wife the wedding she had always wanted.
A few more highlights:
– Phil being pulled on top of a passed-out Jay on a hammock may be one of the funniest things I've seen on any show this season.
– Never before has it been made more apparent just how different Manny and Luke are as it was in this episode, and it was great to see these two kids play off each other. The younger actors on this show don't get enough credit - they can go toe-to-toe with the adults in getting laughs.
– Best quote from Jay: "I decided to get in better shape quick. Didn't want to end up like my old man. Although he did die doing what he loved: Refusing service to hippies who came into his store."
– Best quote from Cameron (hard to pick one, I know): "It would be like Lewis telling Clark that he didn't like to walk. Sidenote: We're very good friends with a couple named Lewis and Clark. Clark bought a big sparkly belt in New Orleans that he calls his Louisiana Purchase."
What did you think of last night's episode? Have you been enjoying "Modern Family" as much as I have this season? Share your thoughts on video, or in the comments below.