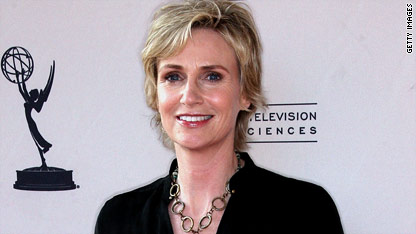 Jane Lynch has signed up for a move that her "Glee" alter-ego, Sue Sylvester, might not have made: she's serving as a pitch woman for PETA.
She's the latest celebrity to team up with the organization to encourage spaying and neutering in order to curtail animal overpopulation. Other celebs who have worked with the organization include Carrie Ann Inaba, Simon Cowell, Patricia Arquette and Mickey Rourke.
In Lynch's spot, she's targeting people who carelessly breed dogs and cats in a quirky campaign for the animal rights group.
"The good folks at PETA asked me to say a few words about the importance of good posture and personal hygiene —but I don't want to talk about that," says Lynch in the TV spot. "I want to talk about the 4 million dogs and cats who are euthanized every year because there aren't enough homes for all of them."
The 49-year-old actress told PETA in an interview that dogs and cats have had made a positive impact on her life. "Having dogs and cats who I love so thoroughly has made me a better partner, has made me a better friend. And the love is so unconditional from the animals. I've just become a much better person because of my love for animals," she said.
She also wrote a letter on PETA's behalf to Chicago Mayor Richard M. Daley, urging him to support a law that would require dogs and cats in her native Chicago to be spayed or neutered.