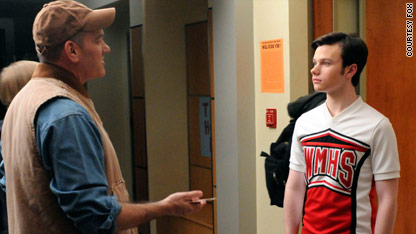 testing captions
Is "Glee" suffering from an identity crisis? That seemed to be the theme of Tuesday's show as Puck, Rachel and Kurt tried to find their footing after they lost their trademark hair cut, voice and dad's attention respectively.
But it also seemed to be a theme overall for the series as "Glee" appears to be venturing more and more into the storylines that make you crack instead of just crack you up.
Don't get me wrong. I don't mind a tear here and there mixed with some hilarious one-liners and show stopping musical numbers. But the show just seems sadder to me these days.
You've got Finn pining away for Rachel who's pining for Jesse. Mercedes who was content to date Puck despite knowing full well that he was using her and Kurt who tried so hard to butch it up - just so his dad would want to spend as much time with him as he has been Finn.
And don't even get me started on the paralyzed football player friend of Finn's who helped Rachel find her "voice."
With all of the plot lines on Tuesday night I felt like I was being lectured: You are more than what you do... be a better person... be true to yourself... love yourself so that you don't have to settle for less love than you deserve. By the end, I was exhausted!
I tried to recount Tuesday's episode for my husband and his response was "Wait, I thought it was a comedy." Good point.
Thank goodness for the songs to lighten the mood. Finn singing "Jessie's Girl" was adorable, and I swooned over Puck's wooing of Mercedes with "The Lady is a Tramp." Not to mention how crazy I went when Mercedes and Santana took it to the mat with "The Boy is Mine" to which I imagine the original singers Brandy and Monica cheered.
I still heart "Glee," which is clearly one of the best shows on television right now. I just think they may want to lighten the life lessons a bit or spread them out more over several episodes rather than clobbering us all at once.