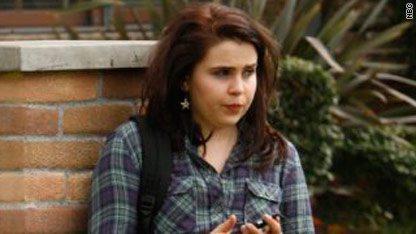 Awkward moments abound in this episode of "Parenthood."  Between Zeek and Camille splitting up, their granddaughter Haddie breaking up with her boyfriend, and the Braverman adult kids dealing with the fallout of all of that, there are a lot of furtive glances and new secrets.
Amber wakes up with Haddie's ex.  She's feeling guilty about it and takes off, after threatening to kill him if he tells.  At school she tries to avoid Adam and Haddie.  But Haddie invites her cousin to a post break-up, bash-the-ex slumber party.  Amber reluctantly agrees to go and tells Haddie what happens. It may not have been the most appropriate time to confess, but I have to give it to Amber for not holding onto the secret for long.
Amber's mom can't keep big secrets, either.  In last week's show, Camille told Sarah Zeek cheated, and asked her not to tell the rest of the kids.  But as soon as Sarah sees Adam, she gets upset and he asks her what's wrong. 
Sarah  tells Adam their dad cheated on their mom.  Adam tries to avoid confronting his dad about it, but that's going to be tough, considering Zeek has moved in with Adam and his family. Zeek isn't exactly blending in or behaving like the lovable old grandpa.  He's cranky about how they handle Max and tells them so.  He has quite the awkward moment with Haddie.  He tells her he's proud of her for not giving in to the boy who tried to have intercourse with her.  What do you say to that besides "Um, thanks Grandpa."?
Adam and Zeek do have a confrontation.  Zeek is giving his unsolicited opinion on what to do about Max, who's having a meltdown about a lost tortoise, and Adam snaps at him about his infidelity. 
Zeek is having no part of explaining things to his son, and tells Adam to back off.  They eventually come to a bit of an understanding, after each realizes he doesn't  know everything about what the other is dealing with.
While Sarah is telling Drew about Camille and Zeek's fight, Camille comes downstairs on her way to art class.   She's not wasting time making changes now that Zeek's out of the house.  She's decided to turn the attic into her art studio.  Sarah protests, because her and her siblings' childhood things are up there.  Camille says everyone needs to come get their stuff or she's giving it away/burning it.  Sarah should be glad she's getting a choice - my mom just brings stuff with her when she visits and drops it off.
Here's another awkward moment… Camille ditches Sarah at a gallery opening to go off with her art teacher.  Of course, not as awkward as waiting up only to hear from her mom that she slept with the art teacher.  Like I said, she isn't wasting time.
Julia (who doesn't know about the cheating) is trying to save her parent's marriage by solving Zeek's financial problems.  She tells Joel she's going to call her old friend Timm.  That is not a typo, but it is the source of jokes from Joel.  Seems like Timm is to Joel as Zen mom is to Julia. 
Timm tried to steal Julia away when they were in school, and Joel's holding a grudge.  It doesn't help that when he comes to dinner to discuss the problem, he shows up 45 minutes late in his Porsche.  He also makes slightly snide remarks about Joel being a stay at home dad.  He also treats him like he hasn't been paying attention to the whole financial crisis mess. 
It seems Timm may be involved in just the kinds of financial shenanigans that caused the crisis in the first place.  When Joel tells Julia they shouldn't be involved with the guy, she tells him he has no say in it.  Perhaps that's not the best thing to tell a husband who's already a bit sensitive about the snotty ex-boyfriend.
For once, the only ones not having awkward moments are Crosby, Jasmine and Jabbar.  They're developing into a nice, little family unit.  Bonus to Jasmine for quoting a line from "Jaws,"  telling Crosby he's going to need a bigger boat to store a piano and some of the other childhood keepsakes from his mom's attic.
Awkward moments aside, how do you think the Bravermans are dealing with their parents' troubles?  I think there have been some bad choices about what to share and when, but they're all trying to deal with it as best they can.  Let us know what you think!