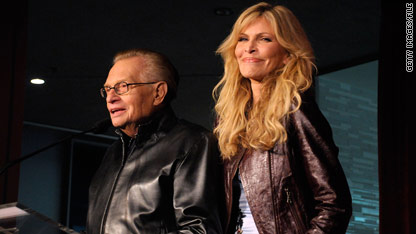 testing captions
CNN talk show host Larry King and his wife, Shawn King, have reconciled their "irreconcilable differences" and called off their divorce, a spokesman said.
They filed for divorce within minutes of each other in Los Angeles County Superior Court a month ago.
"We love our children, we love each other, we love being a family," they said in a statement. "That is all that matters to us. We owe it to ourselves and our children to continue being dedicated to each other."
The Kings have two sons, ages 9 and 11. Larry King, 76, checked out of the Los Angeles hotel where he's been living since the split and returned to their Beverly Hills home, publicist Howard Rubenstein said.
King and his wife, 50, were seen talking and hugging at a son's baseball game just days after the divorce filings.  When King married Shawn Engemann Southwick on September 5, 1997, it was his eighth marriage to his seventh wife.
King has hosted a nightly prime time talk show on CNN since June 1985. He previously hosted a late-night national radio talk show.