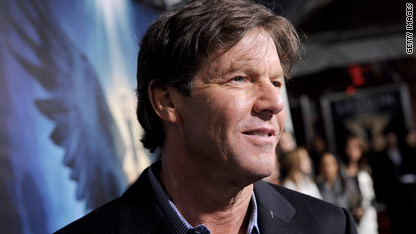 When you think of people who resemble former President Bill Clinton, I bet actor Dennis Quaid doesn't come to mind. But what if he packed on 35 pounds, shaved his eyebrows and wore a silver-gray wig? Could you then picture him looking like former President Clinton? That's exactly what you'll see in the upcoming HBO movie "The Special Relationship." Quaid transforms completely with southern drawl and mannerisms down pat. He also consumes lots of junk food in the movie.
"I used a wig and shaved off my eyebrows because Clinton doesn't hardly have any eyebrows," said Quaid. "I also gained 35 pounds by eating McDonald's like Clinton. I ate a lot of Happy Meals, and I loved those 10 piece Chicken McNuggets."
"The Special Relationship," which airs on HBO May 29th, details the political rise of former British Prime Minister Tony Blair (played by Michael Sheen) his relationship with then president Bill Clinton and what happened behind closed doors as both men dealt with problems in their respective countries and personal lives.
While Quaid has never played Bill Clinton before, Sheen is no stranger to his current role. In fact, he has played Tony Blair three times, first in "The Deal", then "The Queen" and now in "The Special Relationship." Screenwriter Peter Morgan wrote the three films and worked with Sheen on all of them. You might think Sheen is an old pro in the role of Blair and needs very little prep, but it's quite the opposite. "I do more research to play Blair now than ever because I can't take it for granted," said Sheen. "It's because all of the other films where I played Blair, were about different times in his life."
Although "The Special Relationship" refers primarily to Blair and Clinton, the relationships both men had with their wives often seem more important. Some of the most compelling parts of the television movie are the  private conversations between Bill and Hillary Clinton and when Tony and Cherie Blair confide in one another. I guess behind every strong man is a stronger woman!