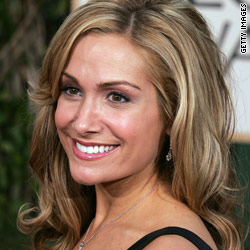 She didn't find her happily ever after in her two stints on reality television, but that didn't stop Jen Schefft from finding love, and soon, motherhood.
The former "Bachelorette" star – we first saw her on "The Bachelor" - is pregnant.
The 33-year-old Chicagoan confirmed to Us Weekly that she is expecting her first child with trader Joe Waterman, her husband since last May.
"I was shocked. I thought it would take more time," the public relations executive told the weekly magazine. "I took three tests because I didn't believe it was true!"
Schefft is due in November and doesn't yet know the sex of the baby, but says that she broke the news to her husband by putting the tests in a Ziploc baggie and rushing to the train station to pick him up after work.
"I handed him the baggie, and he gave me a high-five! He hugged me too, of course, but we were so taken off guard," she shared.