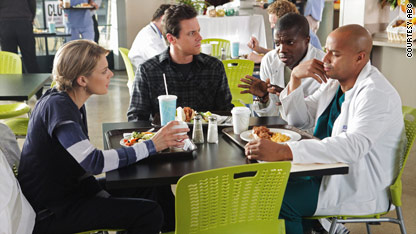 TV networks are busy working on the fall lineups they will announce next week to advertisers, and in order to make room for potentially hot shows, networks are cleaning house.
Over at ABC, "Scrubs," "Better off Ted," "The Deep End" and "The Forgotten" are all done for while the possibility of another season of "V" is still unknown, according to the L.A. Times. "Flash Forward" is another series that seems to be coming to an end, but is still a question mark for the network.
Embattled NBC is picking up the series procedural drama "Chase" from Jerry Bruckheimer. The show, which follows a team of U.S. Marshals chasing down fugitives, has been added to NBC's other recent pickups, including J.J. Abrams'"Undercover," a drama about a couple who gets back in the CIA game.
There's also still hope for "Chuck" fans: NBC president Angela Bromstad told THR that while it's too early for her to say what will happen, the show is the network's "highest-performing Monday night show," Bromstad said. "We look at it as a very strong player, and it's a show that matches up with our new shows."
"Heroes," on the other hand, may not be able to save itself. Bromstad said in the interview that with shows "like 'Parenthood' and 'Heroes' that don't perform well in repeats, we could be looking at shows sharing the same time slots (split between fall and spring)…With shows like that, we really have to sit down and figure out all the pieces of the schedule."
Over at the CW, "The Vampire Diaries" is a definite yes while "Melrose Place" has been killed off. The network's buzzy pilot "Nikita" also appears to be off to a good start - the series, a remake of "La Femme Nikita," is reportedly starting to hunt for writers, according to DeadlineHollywood.com.